4 Wheeled Wheelie Bins, What Are My Options?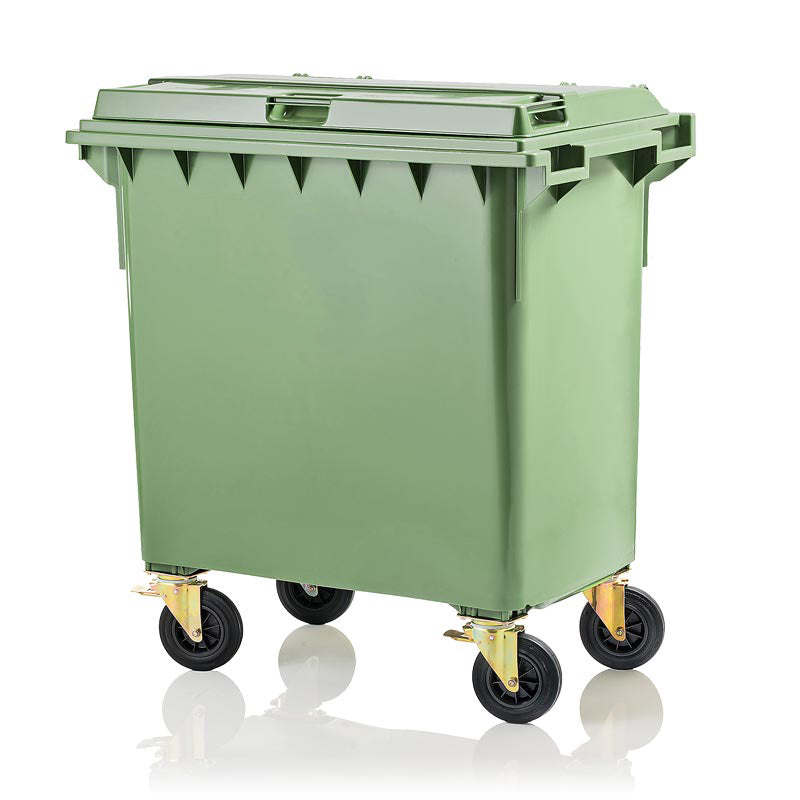 Need a large commercial bin with a large capacity for your business? What about large communal bins for a residential building? You need 4 wheeled wheelie bins. Here's our guide to your options.
Do I Need 4 Wheeled Wheelie Bins?
4 Wheeled bins are the perfect choice for you if you;
Own or manage a large commercial property or residential building that generates a lot of waste;
Run a business that needs a bin that will hold general waste, recycling, compactable industrial waste, commercial waste, and more.
What Sizes Of 4 Wheeled Wheelie Bins Are Available?
660 Litre Wheelie Bins
This large wheelie bin is perfect for businesses that need that extra bit of waste disposal capacity. Made from injection moulded polyethene, this bin is designed to withstand the elements. It won't bend or crack either.
It's equipped with a reinforced front comb and side trunnions so your waste management company can lift and empty it quickly. Its 4 swivel casters also make it easy to manoeuvre
With a generous weight capacity of 310kg and a choice of 5 colours, it's a great investment for your business.
770 Litre Wheelie Bins
What should you look for when you're shopping for 4 wheeled wheelie bins? Strength and durability? Definitely. Easy manoeuvrability? It's a must. Weather resistant? Absolutely. This bin offers all these things and more. If you want a bit more wheelie bin for your money, why not invest in this 770 litre bin?
Made from high-density polyethylene, this bin is made to last and will withstand heavy commercial or residential use. Its 4 wheeled design makes it easy to move and relocate if needed. A reinforced front comb and side trunnions make lifting and emptying it a breeze for your waste contractors.
Oh, and did we mention that it's available in six colours AND 100% recyclable at the end of life? This bin will only add to your company's green credentials.
1100 Litre Wheelie Bins
These are the big daddy of 4 wheeled wheelie bins. These wheelies are perfect for large businesses. Made from high-density polyethylene, these bins won't rust, chip, dent, or suffer damage from adverse weather conditions. As well as the usual front comb that allows safe and easy lifting and emptying, this bin is certified to EN840 European safety standards. Invest in this bin and you know you're investing in a safe and high-quality product for your business.
What Kind of Waste Can You Put in 4 Wheeled Wheelie Bins?
Generally, you can put the following types of waste in large wheelie bins*;
General waste

Dry Mixed Recycling

Single waste stream recycling (Paper, Card, Plastic)

Compactable industrial waste

Compactable commercial waste
*These bins are not meant for hazardous waste, so ask your waste contractor for advice if your business deals with this type of waste.
How Much Rubbish Can I Fit in a 4-Wheeled Bin?
Ready for a fun fact? Well, the amount of rubbish you can fit into a large wheelie bin depends on the size of the bin. Our 660 and 770-litre bins have a maximum weight capacity of 310kg. This is roughly the weight of 100 bowling bowls or a male grizzly bear!
Are you looking for a 4-wheeled wheelie bin for your business? You'll find the perfect great value, high-quality bins for your business or commercial property in our range. Need some guidance on which bins are right for you? Get in touch with our friendly sales team who'll be happy to help. For more interesting articles on all things wheelie bins, check out the rest of our blog.