What are Trunnions? Do I Need Them?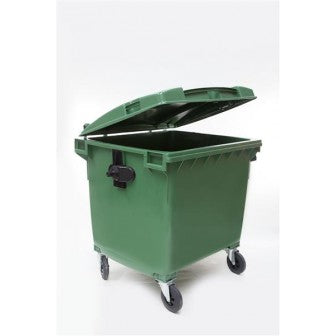 Wheelie bins are the practical and popular choice for disposing of waste in the workplace. Ever struggled to manoeuvre your bin at home when it's full? Have you wondered how your council or waste contractor empties those huge 1100-litre bins at work? Say hello to trunnions, the answer to all your bin-lifting prayers.
What are Trunnions?
Trunnions are fixtures that fit on wheelie bins to assist with bin lifting and emptying. They are made from HDPE (high-density polyethylene) and often have a metal insert for extra strength. Trunnions are compatible with the hydraulic lifting systems used in refuse vehicles to lift and empty bins.
Do I Need Trunnions?
If you have large wheelie bins on your premises then the answer is a definite yes. By large, we mean your 660, 770, or 1100 litre bin. With the best will in the world, and even with the world's strongest man on your staff, no one would (or should) be able to manually lift a bin like that. That's why refuse vans have hydraulic bin lifting systems. Bin lifting systems eliminate the need for any sort of manual handling of a wheelie bin.
How Trunnions Assist With Bin Lifting and Emptying
Refuse vehicles have had bin lifting mechanisms fitted since the late 1980s. Most of them operate in the same way. They lift wheelie bins and empty them into a hopper, the container at the back of the lorry that lifts rubbish. However, with really heavy bins, the lifting mechanism needs something to grab on to. That's where trunnions come in. Heavy wheelies are lifted via side or front comb trunnions. The bin is positioned over the hopper and safely emptied.
Once the hopper is full, a refuse worker activates a compacting blade. The compacting blade pushes rubbish into the body of the refuse vehicle, making space for a generous amount of rubbish. The average refuse lorry can hold up to 26 tonnes of waste if you're wondering.
Once the bin round is over, the rear of the vehicle tilts back and the waste is unloaded either at a recycling facility or landfill.
Our Large Wheelies Come With Trunnions
Some wheelie bins come with trunnions and in some cases, you can buy and fit them yourself. Our large wheelies, like our 770 Litre Wheeled Bin, come with reinforced front comb and side trunnions. They are compatible with standard lifting systems and designed for precise engagement with lifting equipment. So they make waste disposal far easier for you and your waste contractor. As well as that, our large wheelies meet all EN840 safety standards and have passed rigorous testing for rough handling. This means that you won't have to worry about your bin being damaged.
Got questions about trunnions or wheelie bins in general? Our expert sales team are on hand to help. Check out our range of high-quality, great value bins, plus some pretty enticing multi-buy offers. Want to read more articles on all things wheelie bins? Check out the rest of our blog.