A Guide to Extreme Wheelie Bin Racing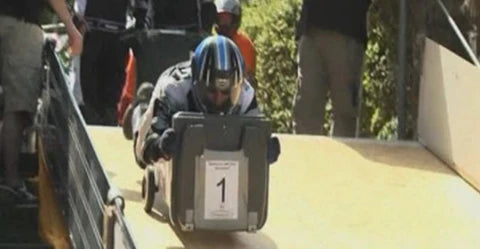 A Guide To Extreme Wheelie Bin Racing
Extreme wheelie bin racing is both a joke and not; it's silly enough to be a punch line, yet serious enough that numerous sites throughout the UK are beginning to take their first tentative steps in this new extreme sport.
What began as a good idea at a pub has translated into a challenging racing implementation wherein emptied wheelie bins are manned by one or two brave souls with two or three drinks in them, pulled by cars or pushed down hills and other racing courses in a hectic race to the finish line, steering around natural or artificial obstacles without overbalancing the unsuited ergonomics of the bin and spilling out onto the racetrack like so much rubbish.
Today amateur wheelie bin racing circuits are developing in and around cities and rural neighbourhoods, outfitting riders with garish costumes and customizing the actual wheelie bin itself with its own glamorous paint job or even newly designed contours intended to shave seconds off racing time and give racers an advantage. Food, drinks and live music are found aplenty at extreme racing bin sites, giving the alternative sport the look, feel and exponential growth of backyard wrestling and other extreme stunts.
Many extreme wheelie bin racing circuits have a 'several drink' minimum for their races before they can step into their wheelies and be propelled across hundreds of yards of course at awesome and dangerous speeds, increasing the difficulty in steering, racing and keeping one's lunch down without slicking the race track with a decidedly unsanitary puddle of a former pizza.
Despite the alcoholic haze of adult-oriented wheelie bin racing, several racing circuits, including those involving young people, have taken wheelie racing into serious extremes, covering themselves from head to toe in protective gear, choosing the most dangerous and bumpy course, and then going head to head with other competitive racers across courses ranging in length to up to four hundred yards.
The key to wheelie bin racing lies in the balance and manoeuvrability of the wheelie bin with a person standing inside of it. Whether the bin races are being pulled along by cars and trucks or rocketing down a steep hill, it's up to the racer to keep the bin standing upright and to turn away from and around bumps or dips in the natural geography, as well as artificial obstacles that may be placed in the way of the course to wipe out inexperienced binmen racers.
Thankfully, the wheelie bins themselves serve as protective coverings from sharp objects or protuberances that would cause the kind of injuries extreme sports like cycling, ATV racing, and BMX stunt circuits result in as the fragile human crushes into the powerful frames of the racing implement. Wheelie bins are uniformly plastic and bendable, and so long as racers wear the appropriate head gear and body pads whenever racing at extreme speeds behind the tow of a truck, extreme wheelie bin racing has yet to translate into the kind of serious injury that can severely hamper the excitement and fun of alternative sports. That's not to say wheelie bin racing is lacking the titular 'extreme': it takes a certain amount of mettle to climb into an old wheelie bin in front of a crowd and go head to head with other wheelie racers down the sheer side of a sloped cliff.