Are Gull-Proof Bin Bags the Answer to Aberystwyth's Rubbish Woes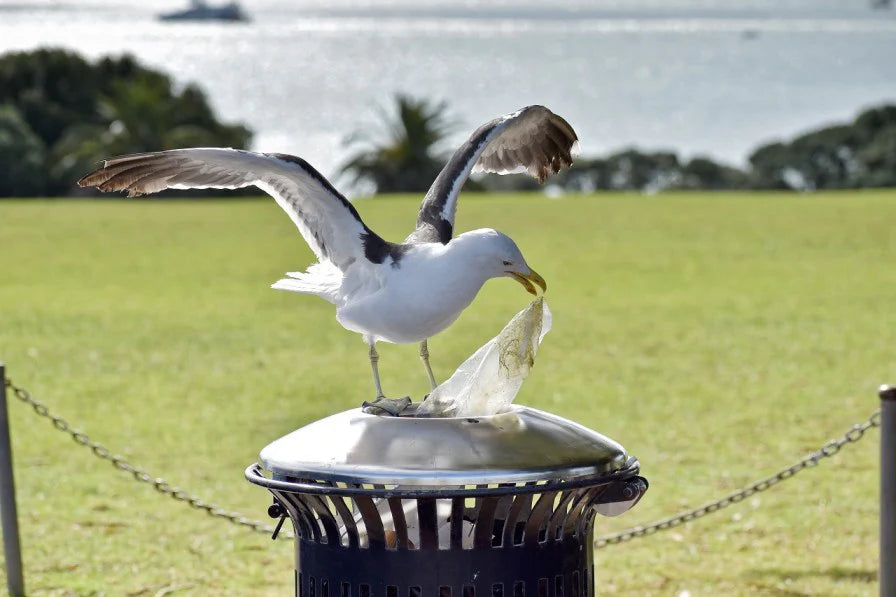 Are Gull-Proof Bin Bags the Answer
to Aberystwyth's Rubbish Woes?
A council in Aberystwyth is set to trial seagull-proof bin bags to tackle problems with gulls getting at rubbish. A local business owner claims that there's often rubbish strewn all over the streets on black bag collection day because the birds get into the rubbish, looking for food. 
The new bags will be trialled on selected streets and they will be introduced in some areas that have communal bins in the summer.
A local man who runs a guest house on the promenade said he has been calling for the council to tackle the problem for many years, and said that the introduction of the bags is long overdue. He added that the town relies heavily on tourism and people wanting to return, which won't happen if the streets are full of rubbish.
The council had previously said that the town's streets were too narrow for wheelie bins, when residents and business owners called for them as a possible solution, and they also resisted calls for the seagull-proof bags. The bags are made from a stronger material than standard bin bags and they can hold a number of bin bags inside of them. But now, a local councillor said that the council understands that the rubbish problems have been causing a lot of frustration for residents, and now it's looking at ways that it can help solve the problem.
How can you keep wildlife out of your rubbish?
Whether you live in a rural or an urban area, the chances are, you'll have had wildlife come looking for food in your rubbish bins. Animals like foxes and seagulls are coming into urban areas in numbers and they're all on the lookout for food. So how can you stop them getting at that delicious chicken carcass in your bin?
Make sure rubbish bags are securely tied and don't overfill your bin so the lid won't shut.

Make sure the lid is secure. If in doubt, put something heavy on top of the bin to keep the lid on or invest in a lock so that wildlife can't gain access.

Keep your bin clean. Wheelie bin smells and bacteria can attract wildlife and pests. After giving it a good rinse with soapy water, spritz it with lemon juice to get rid of any grime and make it smell fresh.

Think about investing in wheelie bin storage. A wheelie bin storage unit can keep your bin safe and secure so that wildlife or unauthorised people can't gain access, but you'll still be able to access it easily. And the added bonus; it can shield your bin from the wild autumn weather too!