Commercial Wheelie Bin Size Guide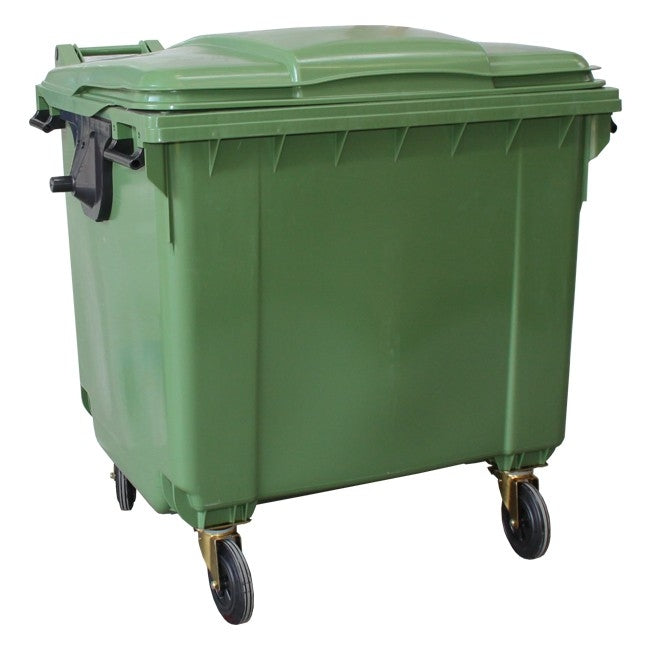 Every business produces waste. As a business owner, you have a legal duty to store and dispose of it properly.  You need a waste management system that includes a commercial wheelie bin and a registered company to handle your waste. But what size commercial bins does your business need? Here's our guide.
What Type of Bins are Best for Businesses?
Wheelie bins are the most popular choice for businesses of all sizes. Commercial wheelie bin sizes range from 240-360 litres for a two-wheeled bin, right up to 1100 litres for a four-wheeled bin.
What Makes Commercial Bins Different from Domestic Wheelies?
Commercial bins are often much bigger than domestic bins;
Businesses usually have to pay for their own commercial bins rather than getting them for free from the council;

With domestic bins, you'll see bins for general waste and different recycling streams. A wider range of bin are available to businesses depending on their needs. For example, a business might need a hazardous waste or sharps disposal bin.
What Size Commercial Wheelie Bin Do I Need?
660-litre waste bin
Approximate capacity: 10-12 rubbish bags.
Ideal for: Medium size businesses.
770-litre recycling bin
Approximate capacity: 13-17 bags of dry recycling like paper, cardboard, cans, and plastics.
Ideal for: Busy offices, schools, or medium-size businesses.
1100-litre waste bin
Approximate capacity: 17-20 rubbish bags.
Ideal for: Large businesses, large offices, schools.
Still Don't Know Which Commercial Wheelie Bin Your Business Needs?
Your waste management company should be able to point you in the right direction. They might suggest doing a waste audit to work out exactly how much waste you produce. Then they'll be able to give you a good estimate of what size bins you need and how many.
The average small business will need a commercial wheelie bin for general waste and a few recycling bins for waste streams they produce the most. For example, a restaurant or a café would probably need food waste and glass recycling bins.
Another thing to factor in is if you have the room to store your bins on your site. Ideally, you should place your bin in a convenient place where it's not causing an obstruction. It has to also be easily accessible for waste collectors but protected from vandals and pests. If in doubt, your waste management company should be able to advise you on where is best to store your bins.
If you invest in commercial bins and you find that they're getting full too quickly, carry out another waste audit. Then renegotiate your needs with your waste company and look at where you can cut down on waste in the business.
For more articles on all things waste and wheelie bins, check out the rest of our blog or check out some of our most popular articles:
- Council Gives out Wheelie Bin Clips
- A Guide to Wheelie Bin Ice Bath
Or check out our most popular wheelie bin sizes and colours