Wheelie Bin Etiquette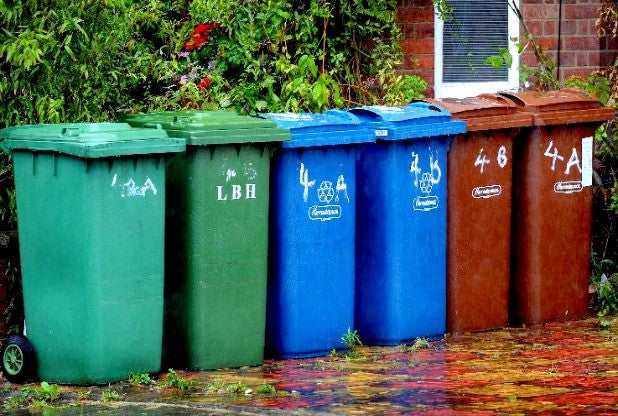 Do you know your wheelie bin etiquette? Sadly, plenty of people don't. They use their neighbours' bins. Put their wheelies out on the wrong day. Dump their rubbish on the street. Sound like someone you know? Here's how to stick to the rubbish rules and keep the neighbours (and authorities) happy.
Wheelie bin etiquette: What you need to think about
Don't use your neighbour's bin (or anybody else's)
While not illegal, doing this is not very courteous. Does your bin get so full that you find yourself sneaking things into your neighbour's bin? It's time to reduce your waste. And if you're tempted to put some litter into a random bin as you're walking past? Granted, it's better than littering. However, it's better to remember your wheelie bin etiquette and put it in your pocket instead.
Avoid letting your rubbish pile up
There's no getting away from it, bins can be smelly. But do avoid causing a stink in your neighbourhood by letting your rubbish pile up. Don't leave bags of rubbish lying next to your bins as they not only look awful, they attract pests. Don't overfill your bins as odours escape more easily when the bin lid isn't closed. If you have something to put in your bin that's likely to smell, like a chicken carcass, double bag it. And one of the top rules of wheelie bin etiquette to combat nasty whiffs? Wash your bin out regularly.
It's good wheelie bin etiquette to avoid overfilling bins
If your wheelie is regularly fit to bursting, consider:
Looking at ways to reduce what you throw away,

Speaking to your council if you really do need a bigger bin,
Don't upset your neighbours by leaving bags of smelly rubbish lying around!
#bekind when it comes to bins
It's good wheelie bin etiquette to bring in your neighbour's bin for them when you bring yours in. Especially if they are elderly or they work away a lot. If you take the time to help them out, they might return the favour when you're away on holiday.
Don't make your bins an obstacle
When you put your bins out for collection, don't block driveways or footpaths. It's not good wheelie bin etiquette if mums or wheelchairs users have to go onto the road because of your errant wheelie!
Knowing the rules is good bin wheelie bin etiquette
Make sure you're familiar with the rules in your area. Every council has different rules about things like garden waste, bulky waste, and recycling. Know where you're supposed to take that old mattress (hint: you shouldn't dump it in an alleyway!). It will save you, your neighbours, and the authorities a headache!
For more tips and articles on all things wheelie bins, check out the rest of our blog.