How to Reduce Your Food Waste this Easter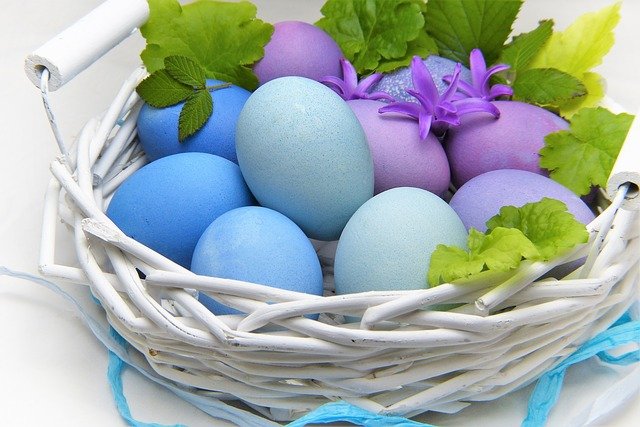 As well as your chocolate eggs, are you relishing the prospect of a big Easter lunch? Many of us are. However, just like at Christmas, excessive consumption at Easter means a lot of food waste. Here's how to reduce your food waste this Easter.
Why Do We Waste So Much at Easter?
Research carried out by Tesco and Hubbub found that British households throw away around 8490 tonnes of food at Easter. So how do we waste this much? Well, we usually buy too much, cook too much, and don't store food correctly so it goes off. This means it ends up in your bin then rots away in landfill sites.
How Can You Reduce Your Food Waste this Easter?
Check your cupboards before you go to the supermarket.
What needs to be used up?

What's hiding at the back of your cupboard and doesn't need to go on the shopping list?;

Plan your meals so you only buy what you need;

Freeze leftovers and make quick midweek meals;

Recycle or compost your food waste wherever possible.
Easter Sunday Lunch Leftovers Recipes
If you're planning a big lunch and an indulgent dessert, here's how you can reduce your food waste.
Freezing Meat Tips
Allow the meat to cool before you freeze it. Cutting it into smaller pieces will mean it's easier to store and will defrost quickly. Put it in a freezer bag and write the date on it. The meat will keep for up to a month in the freezer.
Lamb Stir Fry Recipe
This is a very tasty way to reduce your waste this Easter.
Lamb Stir Fry Ingredients:
175g lamb leg or fillet, fat removed and cut into strips

2.5cm piece fresh root ginger, peeled and chopped

2 garlic cloves, crushed

1 red pepper deseeded and thinly sliced

2 spring onions, diagonally sliced

225g mushrooms, thinly sliced

1tbsp dark soy sauce

1 tbsp hoisin sauce

coriander to garnish

Noodles for 2

Spray oil
How to make Leftover Lamb Stir Fry:
STEP 1
Cook your noodles.
STEP 2
Spray a wok with oil and heat. Stir -fry the lamb for around 2 minutes until it's browned.
STEP 3
Add all the vegetables and fry for 2-3 minutes, then stir in the sauces and drained noodles.
STEP 4
Toss until everything is coated with sauce, then serve and garnish with coriander.
STEP 5
Enjoy!
Use leftover potatoes in a quick and easy recipe
Just like pasta and rice, it's easy to cook too many potatoes. However, don't fret if you have a potato mountain to get through. Reduce your food waste by using them in a quick and tasty recipe.
Easy Potato Salad Recipe
Potato Salad Ingredients
800g small new potatoes

3 shallots, finely chopped

1 tbsp small capers (optional)

2 tbsp cornichons, finely chopped (optional)

3 tbsp mayonnaise, or to taste

3 tbsp extra-virgin olive oil

1 tbsp white wine vinegar

small handful parsley leaves, roughly chopped
How to make a Potato Salad:
STEP 1
Boil the potatoes in salted water for 20 mins until they are just cooked. Drain them, then let them cool.
STEP 2
Cut the potatoes into chunks. Put them in a bowl with the shallots, capers and cornichons, if you are using them.  Add mayonnaise to bind everything together then add the olive oil and vinegar. Stir in chopped parsley and serve.
Use up leftover eggs in a quick nutritious meal
If you're doing some Easter baking, you may find that you have eggs left over. The good news is that eggs can be used in lots of quick and tasty meals.
The reduce your waste recipe for leftover eggs: Cheese and ham omelette
Cheese and Ham Omelette Ingredients
3 free-range eggs

10g/½oz unsalted butter

30g/1oz cheddar, preferably Montgomery cheddar

1 thick slice ham, finely chopped

salt and freshly ground black pepper
How to make an easy cheese and ham omelette:
Gently beat the eggs together in a mixing bowl and season with salt and pepper.
Heat the butter in a frying pan until it foams. Pour in the eggs and cook for a few seconds, until the bottom of the omelette is lightly set. Push the set parts of the omelette into the uncooked centre of the omelette. Cook again, until the omelette has set further. Push the set parts into the centre of the omelette again. Repeat until the eggs have just set but the omelette is still soft in the centre.
Put the cheese and three-quarters of the ham in the centre of the omelette and cook until the cheese melts.
Increase the heat to high and cook the omelette for a further 30 seconds, or until it goes brown on the bottom.
Fold the omelette in half, then remove the pan from the heat. Tilt the pan to move the omelette to the edge. Slide onto a serving plate and shape it into a roll.
Sprinkle the rest of the ham over it.
Serve with some greens for an easy but nutrient-packed meal.
We hope you've enjoyed our handy tips on how you can reduce your waste this Easter. Remember to eat, drink, reuse, and recycle! For more interesting articles on all things waste and sustainability, check out the rest of our blog.