How to Choose the Right Wheelie Bin Size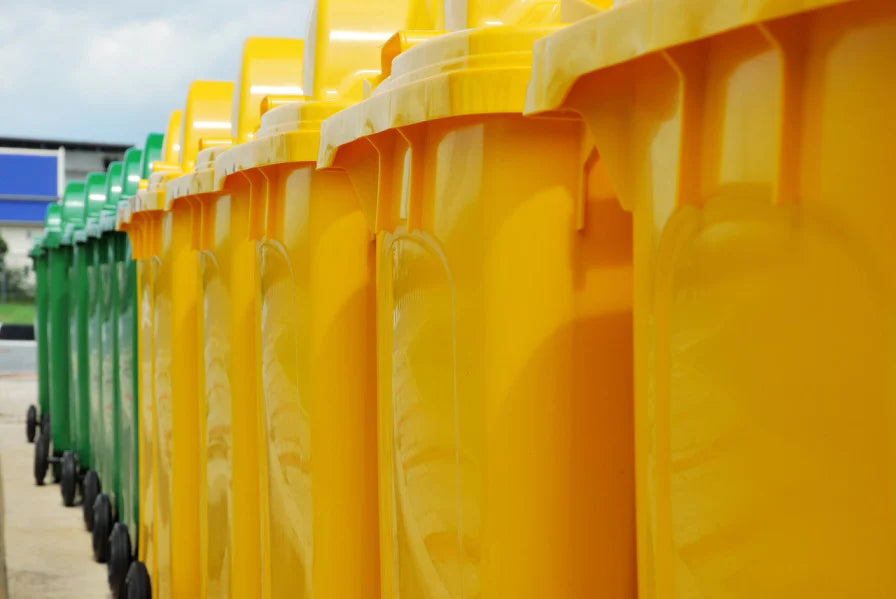 How To Choose The Right Wheelie Bin Size
At Wheelie Bins UK, we pride ourselves on providing a diverse range of wheelie bin options to cater to various waste disposal requirements. Whether you need a compact solution for a small household or a larger capacity for a bustling commercial space, we've got you covered. Our wheelie bins come in a variety of sizes, ensuring the perfect fit for any situation. In ascending order, our bin sizes include:
With this extensive selection at your disposal, you can trust Wheelie Bins UK to help you manage your waste efficiently and effectively, no matter the volume or the environment.
Choosing the right wheelie bin size can be a difficult proposition for anyone who is unfamiliar with standardized sizes, their intended load amounts, and any other necessary measurements that make sizing a bin up as simple as clothes shopping. Finding the proper bin size is essential for both homeowners and binmen, and since bins are manufactured to hold a certain maximum amount there is every reason to purchase a bin which is just right for the job.
We've got some tips and advice here that should help you choose the best bins for your needs.
Should you go for the most familiar size favoured by councils?
In case you weren't aware, the most common size used by councils across the UK is the 240 litre wheelie bin. This is capable of taking a lot of rubbish and many people fill theirs on a weekly or fortnightly basis.
However it does pay to consider the situation in which your bin (or bins) will be used. This will help you choose the most appropriate bin for your needs.
How often will the bin be emptied? 
This is the first question you should consider. This holds true regardless of where the bin is going to be and who is going to use it. Clearly if the bin is going to be emptied weekly you may not need as big a size as you'd need if it was only emptied once a month. Make sure you find out the relevant information prior to purchasing your bin so you can be sure of getting the right one.

What is the bin required for? 
These all sound like very obvious questions but there is nothing worse than purchasing what you think is the right bin, only to find later that you struggle with it. You might end up with something far bigger than you would ever need that gets in the way whenever you try to walk past it. Conversely you might end up with a tiny bin that is overflowing long before it gets emptied each week, fortnight or month, whichever is applicable in your case.
As such it can be a good idea to monitor the amount you throw away for a few weeks prior to buying a new bin. You only have to do this for the amount of time that elapses between each bin collection. Take the average week rather than one where you decide to clear out the garage or do anything else you only ever do once in a while. This will help you work out which size bin would be best in your case.
Remember you don't want to have the lid half-propped open and rubbish spilling out if you can help it. If you are buying a bin for general rubbish or one that could have food leftovers in it you certainly don't want this to happen. This is because animals could get into it and pull the contents out. Furthermore there is a greater likelihood of attracting flies and getting maggots in the bin – none of which you would particularly like!
As you can see, the more information you have to go on before you determine which size bin you need, the easier it will be to make the right choice. In some cases you may be looking to buy a bin that will be used by several people, perhaps living in different properties or flats. In this case the largest possible bins will be ideal because they will need to take more rubbish each week. The good news is the larger the bin is the more likely it is that it will be made from stronger materials. Generally speaking the bigger bins are called Eurobins and have four strong swivelling wheels on them to make them easier to manoeuvre.  
Do you need a two-wheeled tilting bin or a four-wheeled version?
Yes, you have to think about wheels too! This question should really be answered quite easily once you have gone through the section above though. The number of wheels present on any recycling wheelie bin will be determined by the size of the bin itself. As mentioned above, Eurobins have four wheels and are capable of taking 1100 litres of rubbish. The other four-wheeler bins are the 660 litre ones. Anything smaller than this will generally have two wheels at the rear and handles in the same place so you can tip it to pull it to wherever it is required to sit. 
Do you need a specific bin designed to collect bottles?

Sometimes it's not so much the size of bin that matters, it's what it is designed to collect. If you own or run a business like a pub or restaurant, the chances are good that you'll have a fair number of bottles to get rid of at the end of every day. In this case a bottle bin might be a good idea. They're available in a range of colours so you can always choose one that will fit in with the rest of your recycling bins.
They are capable of taking 120 litres-worth of bottles too, which is the most convenient and popular size. With four wheels it is easy to manoeuvre around wherever you need it, even when it is getting full up. You can use these open-top bins for all manner of other uses too, and since there are five different colours to choose from they can work well in a variety of situations.
As you can see your choice of bin (or bins) is dependent on a number of different factors. The more information you have to go on the easier it will be to determine which bins will suit your requirements best. Maybe you need some light, strong and practical open-top bins to use in a shop warehouse, perhaps to fill with hangers and other items to be recycled. You may be looking for a bin to use outside a small block of flats. Whatever the situation might be, choosing the right size bin is essential if you want to make sure it will serve you long into the future.
Purchasing a small wheelie bin will result in rubbish overflow, while purchasing a tall wheelie bin will result in unused space, making the bin more of a nuisance. The larger the bin the higher its cost, so binmen and homeowners alike are advised to use only what is necessary and leave the uninformed purchases to others.
There are wheelie bins designed to handle industrial levels of waste, and there are wheelie bins designed to simply deal with the marginal waste produced by a single person with a modest income. Wheelie bin retailers offer a number of wheelie bin designs and will specify the exact measurements.
There is a good range of choice, from bins that are able to hold two cubic meters to bins that are capable of holding nearly thirty cubic meters. After a certain storage capacity the ease of pushing a wheelie bin becomes taxed by the sheer weight of the contents and the dimensions of the bin, so anything much larger is going to be unwieldy.
Wheelie bin measurements will vary slightly from brand to brand in a similar vein as a pair of walking shoes; a pair of size 11 shoes in one brand may fit better than a pair of size 10 shoes in another brand, and that's an important detail to note when considering any bin purchase over the internet. Ensure that the bin you choose conforms to European standards.
Regardless of the refuse produced by a household or business, wheelie bins can meet all but the most high trafficking waste needs, and most wheelie bins capable of holding 30 cubic meters can withstand 8 tonnes of weight before its functionality is impaired and the wheelie bin will become difficult or dangerous to use.
Wheelie bins increase their dimensions incrementally, meaning there is no steep jump from the introductory size of two cubic meters to the larger models. People can purchase wheelie bins whose dimensions are fitted for three cubic meters, four cubic meters, five cubic meters, and so on down the line until the natural size restrictions of a wheelie bin top the dimensions out at 30.
However, it's also important to note that certain areas will have their own expectations and specifications for what is and isn't allowed on the premises. Most domestic users will find wheelie bins between 60 litres and 240 litres suitable. Having said that the average council bin is 240 litres. although businesses are perfectly able to purchase 1100 litre wheelie bins manufactured with enough manoeuvrability to handle the load without impairing its function. Although the long list of choices might make experimentation a tempting proposition, it is important to remind all interested buyers that oversized wheelie bins are just as inefficient and costly as undersized wheelie bins.
A casual inventory of a normal week's rubbish accumulation is a good start in figuring out size, while viewing example images on the web will help buyers familiarize themselves with the physical translations of every measurement.
The image below will show you roughly how many average sized bin bags you can put into each bin.