From Heavy Metal to Lightweight Hero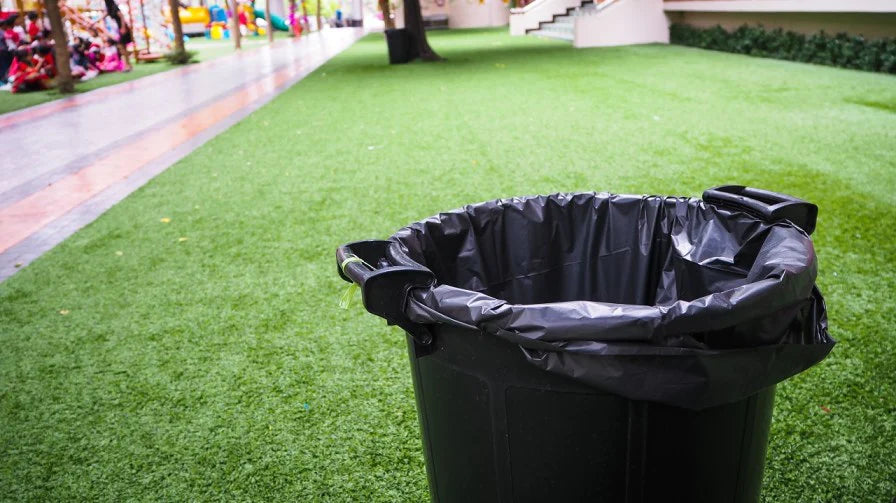 Wheelie Bins: From Heavy Metal to Lightweight Hero
Early Bins and the Move to Wheelie Bins
Bins have come a long way since people used containers like biscuit tins for their rubbish in the early 1900's.
The waste bins of the 1950's were heavy, round metal containers with two handles on the side and the top (to get a firm hold) and a lid to cover them. They were made up of a long sheet of metal welded along the smallest edge of the waste bin. The bottom was also made of metal. The metal bins went out of favour because they were noisy when dustmen were carrying out their morning collections, they were prone to rust and incredibly heavy to lift. When collected by dustmen, these were usually picked by their handles and hoisted onto their shoulders. It seems they didn't have too much regard for hygiene or health and safety back then!
After the metal bin came the heavy, bulk-loading, black plastic bins, also with two handles. There was a substantial advantage to the earlier bin - it was a lot more impervious to damage. However, waste that was hot, for example ashes, could damage the bin a lot more easily, as it was made of plastic and it modified the structure of the bin.
The most recent upgrade to bins is wheelie bins. These are popular but are not ubiquitous across the globe. Countries that still do not care much for hygiene and health are still functioning on plastic bags which burst open if they are holding too much weight. Wheelie bins are easier to manoeuvre and can store the growing amount of waste we generate these days.
Wheelie bins are heavy rectangular plastic containers. They are about 4' tall and 18 inches wide. They have two wheels on the underside and a hinged flap lid covering the top. There is a handle attached just behind the hinged lid to allow you to pull or push the bin. Local authorities have introduced different coloured bins, such as green, grey, blue, red and brown, for different types of waste to make waste collection and disposal easier and more efficient.
Who Invented the Wheelie Bin?
This is a question that is still being disputed over by historians. Bins can be traced back as far as the city of Pompeii, which was destroyed by a volcano. Among the ruins, the fossilized ruins of an early elementary wooden wheelie bin were found.
Prehistoric paintings of primitive wheeled boxes were discovered in a cave up in the Himalayas. It is thought that they would have been used to store left-over bones of mammoths. Even though they resembled the modern day "wheelie bins", there was no other similarity between them.
The modern wheelie bin that is used by people in their homes today was first used by Frank Rotherham Mouldings on the behalf of a company in Slough in the 1960's. In the start, they were used to transport waste from one corner of the factory to another. A health and safety inspector was interested in these bins when he was checking up on the factory. He knew that the idea had the potential to go much further. Refuse collectors in England generally suffered back injuries from lifting the earlier forms of waste bins and he saw that these bins could effectively prevent these problems.
This was not implemented until the late 1980's when refuse collection lorries came into existence which automatically picked up and emptied the bins. This was a revelation, and it truly started the reign of the wheelie bin.
The Wheelie Bin as a Solution
In the 1980's and 90's, councils were under a lot of pressure to reduce the cost of refuse collection, and to make it more efficient. Increasing health and safety legislation also meant there was a need for safer working practices for refuse collectors.
After the introduction of the wheelie bin, life was much easier for refuse collectors. The bins are far easier to manoeuvre and now refuse vehicles have mechanical lifting equipment on the back to lift the bins and empty them. So, there's no need for a refuse collector to wear the donkey jacket with a padded back now as they no longer have to lug around a heavy bin! This means that refuse collection is much faster and safer. The bins can also store more, which is good news for households with big families who generate a lot of general waste such as packaging and garden waste.
It wasn't long before wheelie bins became the long searched for waste disposal solution for business and households. They are more convenient, hold more rubbish and cause a lot less injuries in those who move and empty them. There's a lot of refuse collectors and not so mobile people breathing a sigh of relief!