All Aboard the Refuse Rocket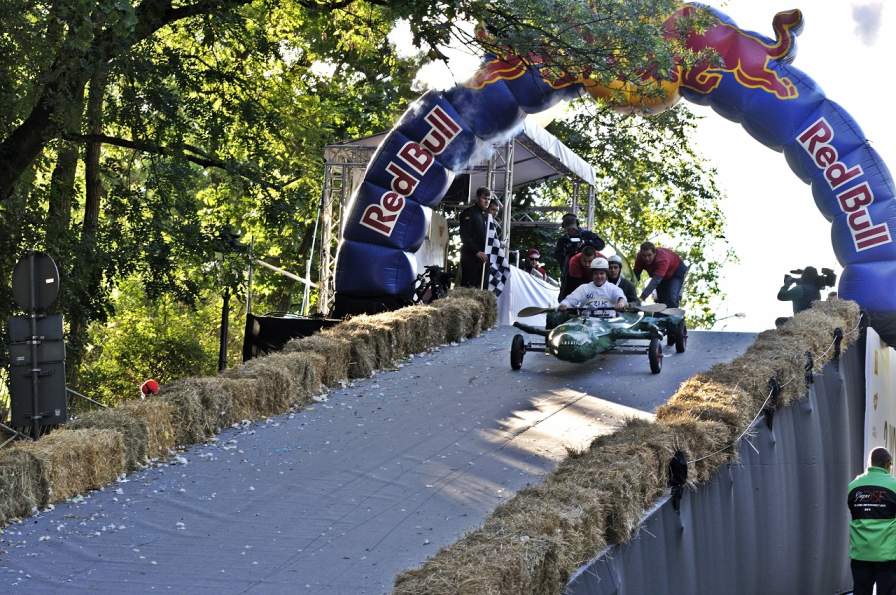 All Aboard the Refuse Rocket!
The Red Bull Soapbox Race is a global event for drivers who want to race homemade soapboxes. The challenge is to design and build your own vehicle then race it downhill against the clock. Red Bull has held more than 100 races across the world since 2000.
Viridor's racing team
A team from Viridor's Peterborough Energy Recovery Facility entered the race at London's Alexandra Palace in July in their creation, made from recycled parts, including a wheelie bin and an old school chair for the driver's seat.
The team had seen the race on TV and thought they would like to give it a try. The operations and maintenance teams put their heads together and created their racing machine; the Refuse Rocket.
As well as the wheelie bin and old school chair, a steel chassis and bash plate was added to the vehicle.
The lack of hills to practice on in Peterborough posed a problem, so the team went to Lincolnshire to do some test sessions.
All for a good cause
The team also participated in the race to raise money for charity. They raised over £840 for a charity called Anna's hope, which helps children and young people with brain tumours. The charity supports the children and their families throughout their treatment, they arrange fun days and memorable events and they organise support group meetings so families don't feel like they are going through things alone. They also fund and promote research into brain tumours.
Viridor has pledged to match the final amount the team raise, and donations are still being accepted.  
The big day
The team spent 4 months prior to the race raising money, and giving TV and radio interviews. On the day, they raced against other teams around the UK. They had to perform a song and dance routine for the judges, which went down a storm.
During the race, the team's creation reached the heady heights of 25mph and crossed the finish line in just over 40 seconds. They came 30th out of 72 competitors, which is not bad when you're in a vehicle made from an old wheelie bin and an old chair!